On the spot...      a safe vacation !


To adapt to new health constraints, we have adopted the health protocol submitted by the Federation of Outdoor Hotels to the French government. We have adapted our services to guarantee you optimal conditions for your holidays :
The reception, the grocery store and the terrace are open every day from 8.30 a.m. to 12.30 p.m. and from 3 p.m. to 7 p.m.

Bar, breakfast and evening meals on the covered terrace, with a river view
The restaurant is open. Whenever possible, we serve you on the terrace, in the open air. On rare evenings with bad weather, we limit the crowds to the restaurant in order to respect a distance of at least one meter between each table. So remember to reserve your table ! 
Each table, chair, etc... is disinfected between each customer. 
Breakfast is served at the table. On busier mornings (such as Sunday mornings), a breakfast buffet will be proposed to you, with hydroalcoholic gel available. But we recommend that you bring your own.
Each accommodation has a kitchen area with the necessary equipment to cook or reheat our take-away meals.
Grocery, ice creams, cocktails and cold drinks to take away, fresh bred and pastries every morning (on order)
Our small grocery store is well stocked from the beginning of July, to insure you a choice of fresh and dry products, local products, ice cream and cold drinks to take away. A maximum of 2 people is allowed at the same time at the grocery store. Hydroalcoholic gel is at your disposal. Favor contactless card payments. The payment terminal is regularly disinfected.
Free Wi-Fi access on the terrace. Wifi is available and free around the common areas, but by commercial and ecological choice, it is not available on the pitches and accomodations of the campsite. 



Direct access to sandy beaches, directly bordering the river, swimming, fishing 
To watch the video of our beautiful beach, click here : beach
Here, you will not find any swimming pool, with all the risks involved and the noise disadvantages, but a calm river with pure and fresh water, all around the campsite. Le Doux is deep and warm enough to swim in it in summer : up to 24 °C last summer ! Resurgences continuously feed the current and guarantee a good depth, even in the event of drought. We have enlarged the fine sand beach, so that everyone has the necessary space to relax in peace.
Playground for the little ones, table tennis, trampoline, pétanque court, badminton and volleyball net, board games, library, communal tennis (2 km) 
Outdoor activities are therefore prefered !
NEW : new wooden games including a large playhouse with slides, walkways and swings... and a small TRAIN, a mini Mastrou, all in wood !
And for older children, a fitness area by the river with 5 secure "body boomers" !!
New sanitary facilities, shower room and toilet for people with reduced capacity, baby bathroom with bath and changing table
The sanitary facilities and reception areas are cleaned and disinfected several times a day. Barrier gestures must be respected there. For the well-being of all, please wash your hands with soap.
Washing machine, gas plancha rental : 10€ a day. Charcoal barbecues and fires are prohibited.
Ventilation, cleaning and disinfection of all accommodations with a minimum of 4 hours between two occupants (24 hours during the week if possible)
Reception / Tourist information point : limited leaflets, provision of digital tourist information (on our website, on page Activities), contactless card payments favored, provision of hydroalcoholic gel, no more than 2 people at the same time at the reception
Start of hiking and biking trails, Arlebosc station 200 m away (the market train stops on Tuesday in July and August), IGN maps and hiking guidebooks at reception
No evenings or entertainment with the public
If you suspect symptoms of Covid-19, please report this immediately to the Management. Please note that no case of Covid-19 was detected at the campsite in 2020. All the conditions are in place to ensure you have a safe holiday !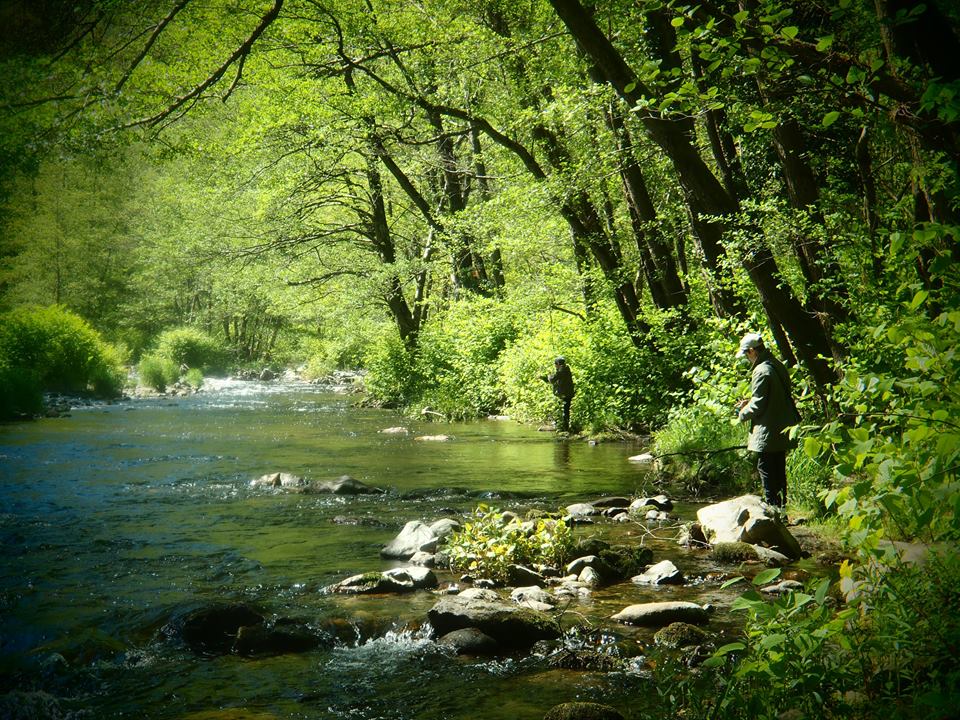 TOWARDS MORE RESPONSIBLE TOURISM
Because sustainable development is now an integral part of our lives, we invite you to travel more responsibly : in a smaller group, more human and open to others, less consumer and more respectful of the planet.
For this, on our side, we have set up :
- few pitches but all very large, eco-designed "green" accommodation, mainly in canvas and wood and without air conditioning,
- a wooded park, banks and preserved biodiversity, most of the area is grass and not concrete,
- no swimming pool or noisy entertainment to protect the local population from any noise pollution,
- water and energy saving, solar lighting, waste management (composter and waste sorting),
- fires and barbecue strictly prohibited to avoid any fire, 
- use of cleaning products that are more respectful of the environment,
- our trips to the campsite only by electric cart, bicycle or on foot,
- information on soft mobility solutions near the campsite (hiking, cycling and horseback riding),
- use of food products from the short circuit, list of local producers on our site,
... and even a small aromatic and medicinal garden !